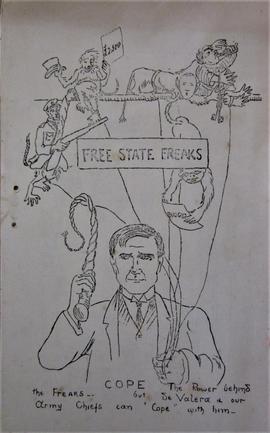 A one-off Anti-Treaty publication produced on a duplicating machine with caricatures of Sir Alfred Cope, Cosgrave, Mulcahy, Walsh, Blythe, Fitzgerald, etc. The drawings are attributed to Constance de Markievicz (1868-1927).
The publication includes caricatures of:
Séan Ó Muirthile, member of the Supreme Council of the IRB (Irish Republican Brotherhood) 1916, Head and shoulders.
Desmond Fitzgerald, (1889-1947), Minister for External Affairs 1922-1927 and Minister for Propaganda outside the cabinet, August 1921. Described as 'Liar in Chief to Publicity Department. Slave-State'. Head and shoulders, full face.
Earnest Blythe: 'The importance of being Earnest …'.
J.J. Walsh: 'The man of "letters" with the "mailed" fist;
Richard Mulcahy: 'haunted by the dreams of prisoners murdered by his troops';
W.J. Cosgrave: 'Jester in chief to the Freak State as seen in the Empire'.