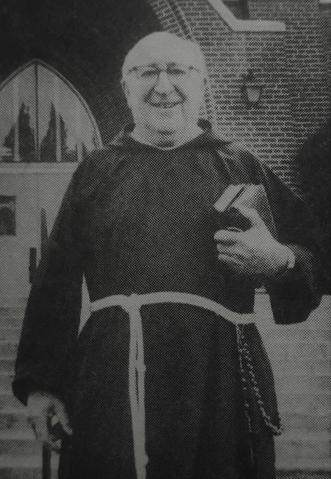 Identificatie
Geauthoriseerde naam
Coughlan, William, 1908-1985, Capuchin priest
Parallelle vormen van de naam
Gestandaardiseerde naamvorm(en) volgens andere regels.
Identificatiecode voor organisaties
Beschrijving
Bestaansperiode
2 May 1908-6 January 1985
Geschiedenis
Jeremiah Coughlan was born in Ballydehob in County Cork on 2 May 1908. He joined the Capuchin Franciscans in October 1926 and was ordained to the priesthood on 17 June 1934. He was sent to the United States shortly after his ordination. His first appointment was as assistant pastor in Roseburg, Oregon. In 1936 he was appointed assistant pastor in St. Francis of Assisi Parish in Bend (also in Oregon). He would be transferred to and from Oregon multiple times over his life in ministry. He was pastor of St. Joseph Parish in Roseburg from 1940 to 1947. At Bend he was responsible for the building of a new parish rectory. He also served as chaplain at St. Charles Memorial Hospital in Bend. He remained in Oregon until 1950 when he was appointed associate pastor in St. Lawrence of Brindisi Parish in Los Angeles, California. He was present for the establishment of the new Province of Our Lady of Angels (the Western American Capuchin Province) at Burlingame in California in 1979. He retired from ministry and returned to Ireland in the early 1980s. He died on 6 January 1985 and was buried in the cemetery attached to Rochestown Capuchin Friary in County Cork.
Baptismal name: Jeremiah Coughlan
Religious name: Fr. William Coughlan OFM Cap.
Date of birth: 2 May 1908
Place of birth: Ballydehob, County Cork
Name of father: Denis Coughlan
Name of mother: Mary Coughlan (née Duggan)
Date of reception into the Capuchin Order: 4 Oct. 1926
Date of first profession: 5 Oct. 1927
Date of final profession: 5 Oct. 1930
Date of ordination (as priest): 17 June 1934 (St. Eunan's Cathedral, Letterkenny, County Donegal)
Educational attainments: BA (1930)
Missionary activities: Travelled to Roseburg, Oregan, United States, on 21 Dec. 1935.
Date of death: 6 Jan. 1985
Place of burial: Cemetery, Rochestown Capuchin Friary, County Cork
Functies, beroepen en activiteiten
Mandaat/bronnen van bevoegdheid
Interne structuren / genealogie
Beheer
Authority record identifier
IE CA DB/163
Maintained by
Identificatiecode van de instelling
Toegepaste regels en/of conventies
Datering van aanmaak, herziening of verwijdering
Digitaal object metadata
Bestandsnaam
Fr._William_Coughlan_OFM_Cap.1908-1985.jpg
Bestandsgrootte
885.5 KiB
ingelezen
24 januari 2022 18:35