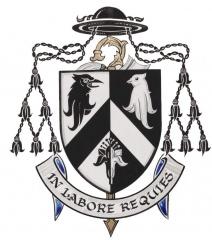 IE IE/GLA IE/GLA
Fonds
1700
Please visit our Archive website at : https://glenstalarchives.ie/
Description of collections:
Non-monastic collection:
Carbery papers, 1658-1759.
Sir Thomas Hackett papers, 1688-1720.
Cloncurry papers, 1880-1909.
Correspondence between Mother Mary Martin and Bede Lebbe, 1930s.
John Sweetman papers, 1911-1923.
Diaries of Richard Hobart (1784-1802), Sir Thomas Kane (1837) and J. Grene Barry (1869-76).
Gaelic League Ard-Craomh minute book, 1907-15.
Monastic collection:
Foundation correspondence.
Legal and administrative documents.
Financial, farm and school records.
Seniorate minute books, 1927-80.
Material relating to congresses, 1952 onwards.
Material relating to the foundation in Nigeria, 1974 onwards.
Private papers of deceased monks.
Glenstal Abbey Auth Rec