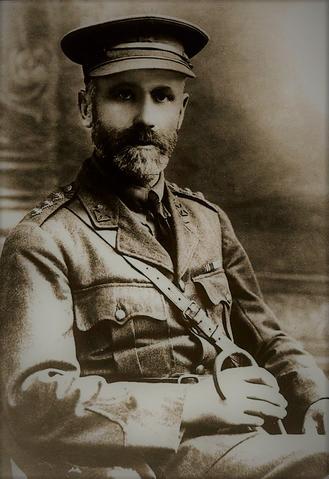 Identity area
Authorized form of name
Butler, John, 1873-1950, Capuchin priest
Standardized form(s) of name according to other rules
Identifiers for corporate bodies
Description area
Dates of existence
6 February 1873-3 October 1950
History
Patrick Butler was born in Sheastown, County Kilkenny, on 6 February 1873. He joined the Capuchins in 1890 (taking John as his religious name) and was ordained a priest in January 1899. For the following three years he worked as a science teacher in the Capuchin College in Rochestown, County Cork. He subsequently joined the missionary staff and was involved in giving missions and retreats throughout Ireland. In 1914, he travelled to Harrisburg in Pennsylvania. He spent nearly two years in the United States assisting Irish Capuchin missionaries in preaching activities. Following the outbreak of the First World War, he returned to Ireland, and in April 1916 was appointed a chaplain in the British Army with the rank of Captain. He served for a short time with the home garrisons in Canterbury and in Blackpool. He was later sent to the Middle East and Palestine as part of the Egyptian Expeditionary Force (EEF), an Allied military formation which fought the Ottoman Turks for control of this strategically important region. He was present at the Battle of Gaza (March 1917), and at the capture of Jerusalem (December 1917), and later acted as chaplain in a casualty clearing station in Damascus. Fr. John returned to Ireland in 1919 and spent the following eleven years in the Capuchin Friary on Church Street in Dublin. In 1930 he moved to Cork and was attached to the community at Holy Trinity Friary. He remained in Cork until his death on 3 October 1950.
Baptismal name: John Butler
Religious name: Fr. John Butler OFM Cap.
Date of birth: 6 February 1873
Place of birth: Sheastown, County Kilkenny (Diocese of Ossory)
Name of father: Tobias Butler
Name of mother: Catherine Butler (née Murphy)
Date of reception into the Capuchin Order: 23 June 1890
Date of first profession: 15 Aug. 1891
Date of final profession: 11 Oct. 1896
Date of ordination (as priest): 8 Jan. 1899
Missionary activity: Travelled to Harrisburg, Pennsylvania, United States on 18 May 1914; Returned to Ireland on 25 Mar. 1916.
Educational attainments: BA (RUI)
Date of death: 3 Oct. 1950
Place of death: Cork
Place of burial: Cemetery, Rochestown Capuchin Friary, Cork
Note: Fr. Casimir Butler OFM Cap. (1876-1958) was a younger brother of Fr. John Butler OFM Cap.
Functions, occupations and activities
Mandates/sources of authority
Internal structures/genealogy
Control area
Authority record identifier
IE CA DB/17
Rules and/or conventions used
Dates of creation, revision and deletion
Digital object metadata
Filename
Fr._John_Butler_OFM_Cap._1873-1950.jpg
Uploaded
April 20, 2021 6:29 AM