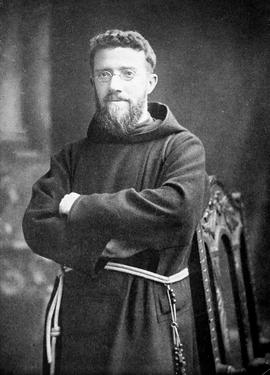 Dowling, Laurence, 1872-1939, Capuchin priest
IE CA DB/10
Person
12 September 1872-1 June 1939
John Edward Dowling, the son of Michael Dowling and Catherine Dowling (née Byrne), was born in Kilkenny on 12 September 1872. He was educated in the Christian Brothers' Schools and regularly attended the Capuchin Friary Church in Kilkenny as an altar server. He subsequently enrolled in the Capuchin Seraphic School in Rochestown, County Cork. On completing his preliminary studies, he was received into the Capuchin Order in February 1888 taking Laurence as his religious name. He took his final vows and was solemnly professed as a Capuchin friar in September 1889. Having completed a course in philosophy and theology he was ordained a priest on 7 July 1895. Following his ordination, he ministered in Dublin, Cork, and Rochestown, and was appointed guardian (local superior) of these communities. He was also Master of Novices for several years, and President of Father Mathew Temperance Hall on Church Street in Dublin. He was also an active member of the committee of the Catholic Truth Society, for which he wrote several pamphlets primarily on social issues. Dowling was a well-known preacher of retreats and missions and was engaged in this ministry for many years. When his health began to fail in 1931, he travelled to Los Angeles in California, hoping that the better climate would improve his condition. His younger brother, Fr. Thomas Dowling OFM Cap. (1874-1951), was a missionary friar working in California and undoubtedly the presence of his sibling in the United States influenced his decision to leave Ireland. Fr. Laurence served at St. Lawrence of Brindisi Catholic Church in South Los Angeles until his death on 1 June 1939. He was sixty-six years old. He was buried in Calvary Cemetery in Los Angeles.
Baptismal name: John Edward Dowling
Religious name: Fr. Laurence Dowling OFM Cap.
Date of birth: 12 Sept. 1872
Place of birth: Kilkenny (Diocese of Ossory)
Name of father: Michael Dowling
Name of mother: Catherine Dowling (née Byrne)
Date of reception into the Capuchin Order: 5 Feb. 1888
Date of first profession: 3 Mar. 1889
Date of final profession: 8 Sept. 1889
Date of ordination (as priest): 7 July 1895
Missionary activity: Travelled to California, United States, in 1931
Date of death: 1 June 1939
Place of death: Los Angeles, California, United States
Place of burial: Calvary Cemetery, Los Angeles, United States
Note: Fr. Thomas Dowling OFM Cap. (1874-1951) was a younger brother of Fr. Laurence Dowling OFM Cap.